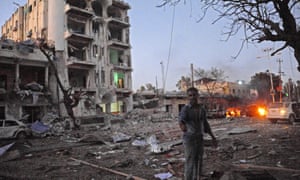 The assault on Thursday is the latest in a series of high profile attacks by the Islamic extremists in the war-torn east African state and will fuel fears that the group, which is affiliated with al-Qaida, is gaining strength.
Al-Shabaab's propaganda unit issued a statement claiming its fighters had stormed the base early in the morning after ramming a suicide car bomb into the entrance. It said the group had killed between 40 and 60 soldiers.
Residents said they heard a huge explosion at the base and a heavy exchange of gunfire shortly before dawn.
"Our fighters stormed the Halgan base of Amisom," al-Shabaab's military operations spokesman, Abdiasis Abu Musab, told Reuters. He also said 16 militants had been killed in the attack.
Lt Col Joe Kibet, an Amisom spokesman in Mogadishu, told the Guardian that the Ethiopian troops had successfully repelled the attack and, backed by local forces, had pursued their fleeing enemy.
"We ended the operation in the early afternoon. We killed quite a number of these people, upward of 120 and captured a lot of heavy weapons," Kibet said.
No figure for Amisom casualties was immediately available, the spokesman said, but he dismissed al-Shabaab's claims as "very exaggerated".
Ahmed Soliman of the Chatham House thinktank in London said the attack in Halgan was part of a traditional offensive al-Shabaab launches every year during the holy month of Ramadan.
"This is part of the response we have seen over the last four years to al-Shabaab losing key towns and territory … It shows its ability to regroup in rural areas and strike into urban areas using a wide variety of tactics. It is very unlikely to be conclusively defeated by conventional military means," he said.
There has been a series of attacks in recent months that suggests a new offensive spirit, though not necessarily the capacity to take and hold terrain.
In January, al-Shabaab fighters overran a base manned by Kenyan Amisom troops in south-west Somalia. The extremists subsequently claimed to have killed 100 people and captured more. Kenyan authorities have refused to comment on any losses, which are believed to have been heavy.
Kibet said the new attack was evidence of al-Shabaab's determination, but that it did not suggest any "increase in capacity".
The 22,000 Amisom troops deployed in Somalia have been unable to strike a decisive blow against al-Shabaab. The force, which was set up in 2007 and draws troops from six African nations, has been hampered by a lack of air power, problems with liaison with the fledgling Somalia national army and deep factional rifts reflecting regional interests among participating nations.
One aim of the recent attacks on AU bases may be to acquire arms and ammunition. After the capture of the Kenyan base, al-Shabaab's propaganda focused on its haul of weapons and equipment.
The group has also launched dozens of other attacks over the last six months, using a wide variety of tactics.
There was also an attempt to bring down a passenger jet departing from Mogadishu airport.
Elections for a new government in Somalia are due to be held later this year.